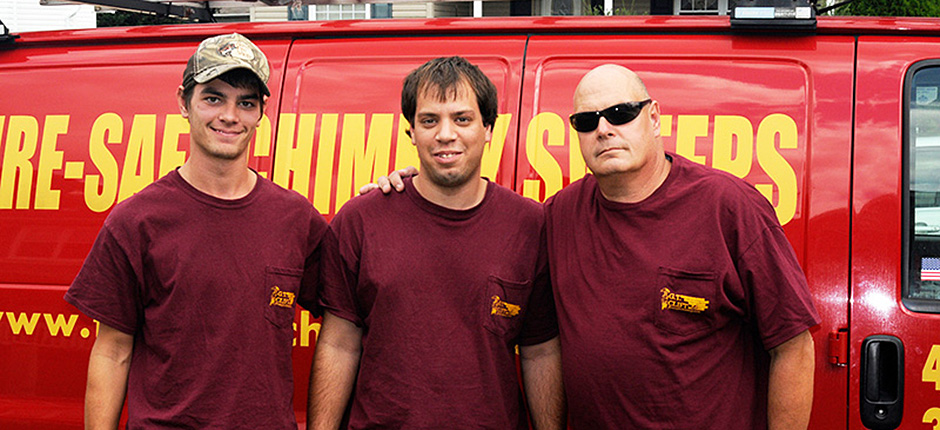 Why Choose Fire-Safe Chimney?
Owned and Operated by the same family since the late 1800s
Fire-Safe Chimney Sweeps is owned and operated by Gary Clift and sons, Gary Jr. and Chris. Our great-great-grandfather began the Clift family's first chimney cleaning business in the late 1800s. In fact, our oldest known receipt is dated 1939, found after we lettered our current truck. As time and technology have evolved, the Clift family has passed down their chimney construction, repair, and maintenance expertise generation after generation. Our owner, Gary Clift, started as a laborer and went through a long apprenticeship program to become a Master Stonemason. (The photo below is of Gary, Sr. at Arundel Vocational Tech in 1976.) So unlike most amateur "chimney sweepers," Gary literally knows everything about your chimney from the ground up.
Proud to be an American Small Business
Gary and sons are native Marylanders who manage and complete every job personally to ensure the highest quality work, the utmost cleanliness, the fairest prices, and a minimum disruption to homeowners. We know you have many options when choosing a chimney sweep, so we work hard to earn your satisfaction and repeat business. In fact, many of our customers have been with us for decades.
The professional chimney sweeps at Fire-Safe are easily accessible for expert advice. If you have any questions, please call to schedule an appointment or use our online Request Service form.