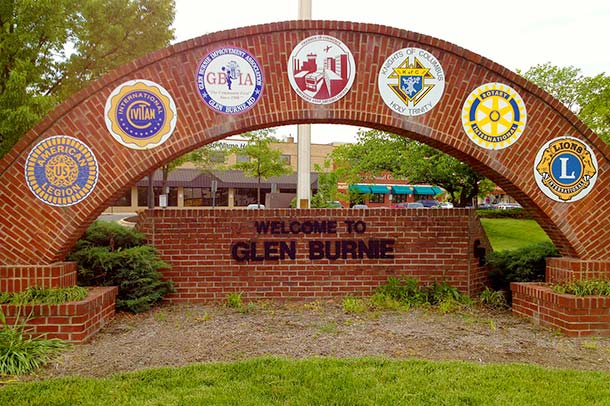 Native Glen Burnie Chimney Sweep Cleans, Builds, Repairs, and Installs Chimneys, Flues, Fireplaces, and Wood Burning Stoves in Glen Burnie and Brooklyn Park
Fire-Safe Chimney Sweeps is owned and operated by Master Stone Mason and native Glen Burnie chimney sweep, Gary Clift. The Clift family has been servicing chimneys, wood burning stoves, fireplaces, oil burner flues, and gas furnace flues all over Glen Burnie and surrounding areas since the late 1800s. In fact, our oldest known receipt is from 1939. We serve single family homes, town homes, condos, and apartments in Glen Burnie, Harundale, Glen Burnie Park, South Gate, Linthicum, Linthicum Heights, Brooklyn, Brooklyn Heights, or Ferndale.
In 1812, Elias Glenn, a district attorney, established a county seat near what is currently known as Brooklyn Park. He named his property "Glennsburne." The name was changed to "Glennsbourne Farm," and eventually "Glenburnie," as the property was passed through Glenn's descendants. Records also show the name as "Tracey's Station" and "Myrtle," after local postmaster Samuel Sewell Tracey and one of Tracey's boarders, before the final decision was made. In 1854, William Wilkins Glenn, Elias Glenn's grandson, incorporated the Curtis Creek Mining, Furnace and Manufacturing Company into his family's property. The business flourished during the 19th century, and with it came several thousand acres of land in northern Anne Arundel County. Upon the death of William Wilkins Glenn, his son, brother and nephew began to manage the family's business affairs, and Glenburnie became an official state subdivision in 1888. The Glenn family contracted George T. Melvin and Henry S. Mancha to lay out and promote the town. It would not be until 1930 that postmaster Louis J. DeAlba decided two words were better than one, and gave the town a final name change to the current Glen Burnie. In 1939, nine years after Glen Burnie was named, the Clift family moved their family chimney sweep business to town and have lived and worked in the community ever since.
We clean oil and gas furnace flues, too!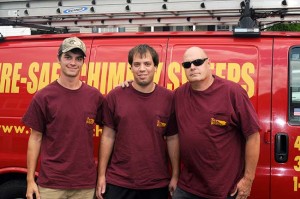 Glen Burnie and northern neighbors, Brooklyn and Brooklyn Park, are known for their working-class families and modest homes, many of which are heated by gas and oil furnaces dating to the mid-1900s. Gary and sons have extensive knowledge of these systems as the family business has been cleaning Glen Burnie's flues and chimneys since these homes were built. If you live in Glen Burnie, Harundale, Glen Burnie Park, South Gate, Linthicum, Linthicum Heights, Brooklyn, Brooklyn Heights, or Ferndale, give us a call, we're right around the corner! We look forward to the opportunity to service your fireplace and chimney. Call 410-360-8460 today or use our Request Service form.