Fire-Safe is Salisbury's Chimney and Flue safety expert
Fire-Safe Chimney Sweeps specializes in cleaning, repairing, and inspecting Salisbury fireplaces, chimneys and flues. Whether you use your fireplace once per year or all season long, annual inspections and cleanings are critical in maintaining your family's safety (learn why). Don't delay… call 410-360-8460 today! Fire-Safe Chimney Sweeps cleans and repairs chimneys, wood burning stoves, and fireplaces all over Salisbury and Wicomico County, including Salisbury, Fruitland, Princess Anne, Powellville, Pittsville, Delmar, Hebron, Bivalve, Waterview, Eden, Pocomoke City, Snow Hill, Berlin, Whaleyville, Ocean Pines, Ocean City, Maryland and more.
Protect your family from Carbon Monoxide with a clean chimney
Carbon monoxide poisoning is usually caused by incomplete combustion and inadequate ventilation. Dirty chimneys and flues slow the escape of combustion gases from your home and can cause a backup into living areas. Signs of buildup of this colorless, odorless gas include: stuffy, stale, or smelly air; high humidity; or soot from fireplaces or furnaces. To reduce the risk of carbon monoxide poisoning, gas and oil appliance manufacturers as well as fireplace manufacturers recommend a yearly safety check-up and cleaning. Let Fire-Safe Chimney Sweeps clean your chimney or furnace flue annually to make sure that combustion gases are moving safely up your chimney/flue and out of your home.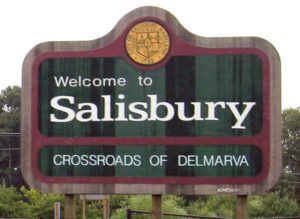 Salisbury's location on the Atlantic Coastal Plain in Maryland gives it a humid subtropical climate, with hot, humid summers and, on average, cool to mild winters. However, in winter the area is also subject to some intervening periods of much more intense cold and even occasional blizzards usually characteristic of more northern regions.
No matter how old your chimney is or how long it's been since the last cleaning, Fire-Safe Chimney Sweeps can handle any cleaning or repairs necessary.
Fire-Safe Chimney Sweeps is a Licensed, Bonded, Insured, and Certified Salisbury Chimney Sweep!
Gary Clift and sons of Fire-Safe Chimney Sweeps have swept and built chimneys and flues all around Salisbury as well as all over Wicomico County, Somerset County, Dorchester, and Queen Anne County on the Eastern Shore of Maryland. We look forward to the opportunity to service your fireplace and chimney. Call 410-360-8460 today or use our Request Service form.