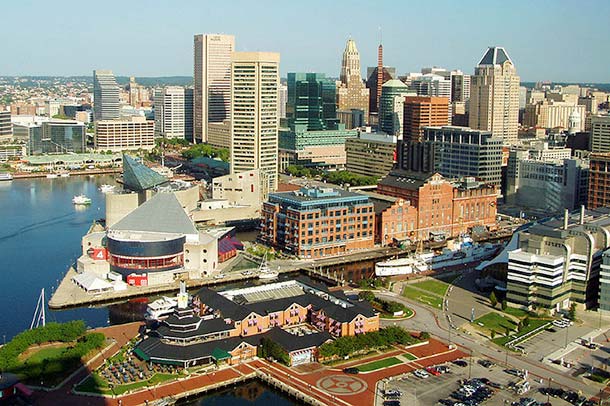 Fire-Safe Chimney Sweeps Clean and Inspect Chimneys, Fireplaces, Gas Flues, Oil-Burning Flues and Wood Burning Stoves in Baltimore
Founded in 1729, Baltimore was once the second leading port of entry for immigrants to the United States. As a true melting pot, the styles and construction of Baltimore's chimneys greatly varies and was no doubt influenced by the European cultures and techniques of its immigrants. On February 7, 1904, the Great Baltimore Fire destroyed over 1,500 buildings in 30 hours, leaving more than 70 blocks of the downtown area burned to the ground.
New fire and building codes were implemented shortly thereafter, and a switch from wood-powered fireplaces to coal and oil-fired furnaces followed. Many wood-burning fireplaces were bricked up, whereas others were converted to flues for new furnaces. Whether your Baltimore chimney is functional or decorative, regular cleanings and inspections are a must if you want to maintain safety for your home and family.
Fire-Safe Specializes in Baltimore Flues and Chimneys
Fire-Safe Chimney Sweeps specializes in cleaning, repairing, and inspecting Baltimore flues and fireplaces. If your furnace is oil-burning, you need to be especially proactive. Modern oil-burning technology can be quite efficient, but flues still need routine maintenance. A sooty flue can lead to flue fires, poor indoor air quality, and even carbon monoxide poisoning due to inadequate drafting up the flue. Don't delay… call 410-360-8460 today! Fire-Safe Chimney Sweeps cleans and repairs flues, fireplaces, and chimneys all over the Greater Baltimore area.
Old Chimneys DO NOT like earthquakes!
Many homes in the Baltimore metro area sustained damage to their chimneys during the August 23, 2011 earthquake, and much of that damage has still not been discovered. As confirmed in local news reports, professional chimney inspectors have found evidence of earthquake damage including cracked flues and separated mortar which pose severe fire and carbon monoxide hazards (by allowing toxic flue gas to escape into the home). Unfortunately, the older your chimney, the more likely it is to have sustained damages. With our Master Stone Mason-owner, Fire-Safe Chimney Sweeps can not only diagnose, but also professionally repair any damage to your Baltimore chimney caused by earthquakes.
We service chimneys, wood burning stoves, and fireplaces all over Baltimore and surrounding areas. Whether you're from North, South, East, or West Baltimore, Fire-Safe Chimney Sweeps has got you covered. We clean and repair flues, fireplaces, and chimneys all over the Greater Baltimore area. To schedule an appointment, please call 410-360-8460 or use our Service Request form.
We cover a huge service area including but not limited to:
21013 Baldwin
21027 Chase
21030 Cockeysville Hunt Valley
21031 Hunt Valley
21052 Fort Howard
21093 Lutherville Timonium
21117 Owings Mills
21128 Perry Hall
21131 Phoenix
21133 Randallstown
21152 Sparks Glencoe
21153 Stevenson


21162 White Marsh
21204 Loch Raven Ruxton Towson Eudowood
21207 Gwynn Oak Woodlawn
21208 Pikesville
21219 Dundalk Sparrows Point Edgemere
21220 Middle River
21221 Essex
21222 Dundalk Sparrows Point
21223 Franklin
21225 Brooklyn Park
21226 Orchard Beach Brooklyn Curtis Bay
21227 Arbutus Lansdowne Halethorpe
21228 Catonsville
21234 Parkville Baltimore
21235 Woodlawn Baltimore
21236 Nottingham Baltimore
21237 Rosedale Baltimore
21244 Windsor Mill Milford Mill Woodlawn Hebbville Daniels Baltimore
21286 Loch Raven Towson