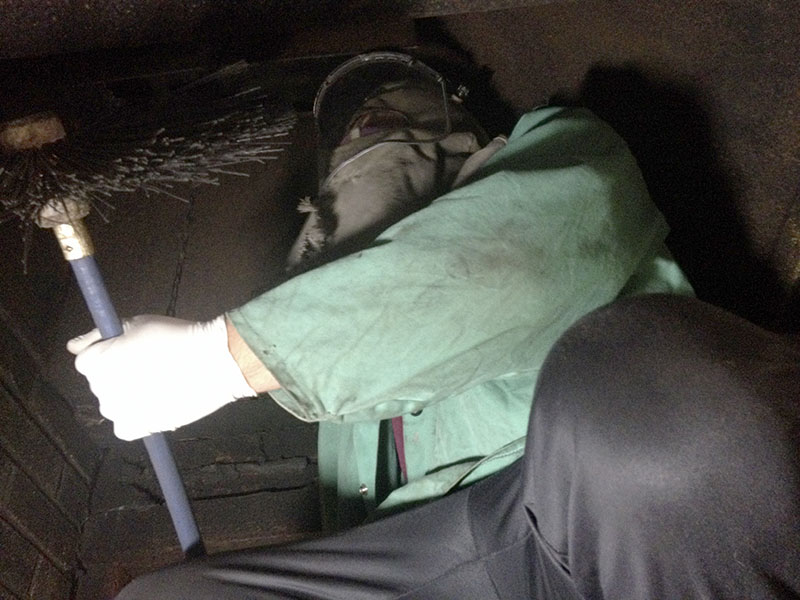 Maryland Chimney Cleaning and Sweeping
The National Fire Protection Agency (NFPA) and the National Chimney Sweep Guild (NCSG) recommend annual chimney cleaning (aka chimney sweeping) and inspection of all fireplaces, chimneys, flues, wood-burning stoves, and vents. Fire-Safe Chimney Sweeps is a full-service chimney company and services residential and commercial chimneys and flues of every size and structure.
Wood-Burning Chimney Cleaning
Wood-burning fireplaces that are used frequently may require chimney cleaning more than once a year if  your home experiences problems with indoor air quality. Chimneys that are rarely used still require annual inspections as they may be even more susceptible to bee hives, bird nests, squirrel nests, and water or frost damage. Check out photos on this page that are typical of our findings in seldom-used chimneys.
We clean gas and oil furnace flues, too!
Gas and oil furnace flues carry off toxic gases, carbon monoxide, soot, and acidic water vapor that are the byproducts of burning fossil fuels. Furnace flues also create the draft (flow of air) that provides the proper air and fuel mixture for efficient operation of your furnace or boiler. Both systems are subject to weathering, animal invasions, deterioration and rust-out, and the accumulation of nesting materials and debris. So both require regular care and maintenance.
Natural Gas Furnaces
Natural gas is a clean-burning fuel, but gas heating systems still require regular maintenance. Gas furnaces and boilers produce high levels of water vapor which condensate in your furnace flue. Air from inside your home carries dust and other particles into the combustion chamber where they are burned to ash and then adhere to the condensation. If not removed, this soot can create very corrosive conditions for your flue, leading to premature failure and entry of poisonous gases into your home.
Oil Burning Furnaces
Oil flues need to be cleaned and inspected annually. The build-up of soot from improper oil combustion can lead to chimney fires, flue deterioration, or chimney blockages that also can force toxic fumes back into your home. Improper drafting also causes inefficient furnace operation leading to higher fuel costs.