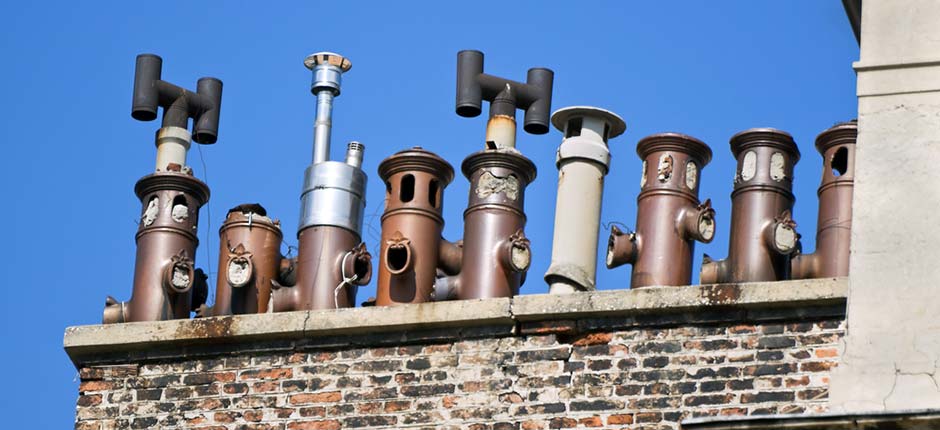 Frequently Asked Questions about Chimneys and Fireplaces
1. How often should my chimney be cleaned and inspected?
The National Fire Protection Agency (NFPA), the National Chimney Sweep Guild (NCSG), and the Chimney Safety Institute of America (CSIA) ALL recommend annual inspection of all fireplaces, chimneys, and vents—regardless of how much you use your fireplace or fuel-burning stove. At least one inspection and cleaning per year ensures that there are no obstructions that could cause a chimney fire or force deadly carbon monoxide into your home.
2. What's the best time of year to have my chimney swept?
Fall cleanings: If you haven't had your chimney swept in a while, or if you burned more than a cord of wood last year, it's best to have your chimney cleaned before the fall season. Flammable creosote could have built up last year, and having it removed now will prevent a possible chimney fire.
Spring cleanings: However, for those who suffer from allergies, spring may be the best time. Why? Modern home construction makes homes air tight; but when you run your clothes dryer or exhaust fan, massive volumes of indoor air are exhausted that must be replaced. In many homes, that incoming air is often drawn in via the chimney, bringing with it fine soot and even creosote fumes. If your chimney is swept AFTER the burning season (ie, Spring), you could spare your family from increased indoor air pollution or allergies during the AC season.

3. If I don't use my chimney often, why should I have it cleaned and inspected?
Chimney's make great homes for bees, wasps, birds, and other wildlife–especially when they are not often used or are in disrepair. We have responded to homeowners having problems with poor venting or smoke backing up into their homes, only to find that the flue was partially or completely clogged with a bee hive or bird's nest!
Hives and nests are flammable and can lead to chimney fires. They can also cause structural damage to your chimney. Sometimes the nests are clearly visible, but other times they can be deep down in your chimney, closer to the warmth of your home. Take a look at this photo of a bee hive we discovered during winter in one of our customer's chimneys. When extracted, it was the size of a 5-gallon bucket!

4. Is it SAFE to hire bargain basement "chimney sweeps"?
PLEASE… do not put your family's safety at risk! As a father and son business with very low overhead, Fire-Safe Chimney offers the most competitive price for a certified chimney sweep who is licensed, bonded, and insured to work on your home. If another contractor gives you a low-ball price… BEWARE! If they damage your home, you won't be compensated. If they hurt themselves on your property, they could even sue you!
As with all things, you get what you pay for. Many of our competitors hire cheap, unskilled, even illegal labor, give them a 1-hour "seminar" on chimney sweeping, and then turn them loose in your home. The results can be disastrous. We've been called out to homes that have been completely dusted inside by soot explosions caused by inexperienced chimney sweepers. We've also followed up on previous inspections, only to find major safety issues or needed repairs which the previous chimney sweep was unable to identify or unqualified to remedy. See our facebook photo gallery for some real examples of what some of our competitors missed.
Beware of Bait and Switch tactics! In fact, some "cheap" chimney companies use their "inexpensive" sweep price as a way to get in the door and then up-sell you on major repairs that may not even be necessary. We recently swept and inspected a new customer's chimney, only to find out afterwards that another "budget" chimney company had insisted the day before that this customer's chimney needed $9,000.00 in masonry repairs! Another tactic is to offer a low-ball price that does not include an inspection AND cleaning. It is ILLEGAL for a chimney sweep not to perform both at the same time. A chimney and fireplace can't be adequately inspected unless they are clean, and code does not allow them to sell you just a sweep without inspecting to make sure the chimney is safe.
Fire-Safe Chimney Sweeps is owned and operated by Gary Clift, a professional Master Stone Mason who knows everything about your chimney from the ground up. Gary completes or manages every job with his son, Gary Jr. We are the most experienced fireplace contractor in the state of Maryland, and we offer the fairest value available on chimney sweeping and inspections. We are also licensed, bonded, and insured for your protection. Call us today to schedule an inspection.
5. Why should every contractor you hire be Licensed, Bonded, and Insured?
FOR YOUR OWN PROTECTION, before hiring ANY contractor for chimney cleaning or any home repair, ensure that they are:
Licensed: qualified by a state or local jurisdiction to be adequately trained in a trade to provide a service. Licenses are also usually required in order for a contractor to pull a building permit to begin work and in order for them to obtain a bond.
Bonded: a guarantee by a local government agency or bond company that a contractor will perform according to their license, pay suppliers and subcontractors, and complete their work to a particular standard of performance. Bonds basically cover the cost of repairing or replacing shoddy work. Unbonded contractors may have a history of such work and therefore cannot secure a bond.
Insured: if an uninsured contractor damages property or injures himself or someone else on your property, you could be liable and sued by the injured party. Make sure that all contactors are insured, and call the insurance company to make sure that the policy is current.
Fire-Safe Chimney Sweeps is licensed, bonded, and insured, and we proudly present our documentation at every job.
6. I'm buying a new home… who should inspect the chimney?
When buying a new home with any wood-burning device, we would advise that the home-buyer hire their own independent, specialized chimney inspector to inspect those devices. Why? Only certified chimney inspectors can perform the legally required Level 2 inspection and correctly identify problems with a masonry chimney. The last thing you want is to move into your dream home only to find out that the fireplace and chimney are unsafe for use. We are still consistently finding major damage to masonry chimneys caused by the August 2011 earthquake, and some inspectors (hired by the realtor) seem to be overlooking major problems to help move properties. Don't get burned… hire Fire-Safe to inspect the fireplace and chimney of any prospective properties you are considering purchasing.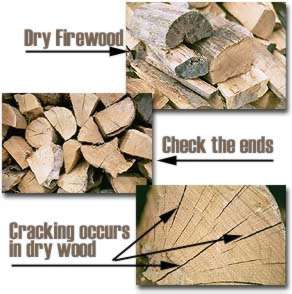 7. What type of wood is best or safest to burn?
Not all wood is alike! Reduce the buildup of dangerous creosote in your chimney by burning only quality, seasoned hardwood firewood. Check out this article by Maryland DNR: About Buying Firewood.

8. How do I know if my firewood is properly "seasoned?"
Properly seasoned firewood will show cracks in the end of the cut pieces; those cracks are evidence that most of the moisture has evaporated, meaning it will easily burn. Non-seasoned or "green" firewood will have a high moisture content, will be difficult to start or keep burning, may hiss as steam escapes, and could cause a build-up of flammable creosote in your chimney as it smolders or burns at a much lower temperature (heat is lost in the evaporation process).
9. How much equals a "cord" of firewood?
A cord is a measurement of wood that when neatly stacked and rowed equals 128 cubic feet. This stack measures 4 feet tall by 4 feet wide by 8 feet long or its equivalent—which means stack it neatly any way you like as long as it equals 128 cubic feet (ex, 4'x4'x8'=128 cu.ft.)
18″ Long Firewood
If your firewood is 18″ long (ie, 1.5′), a 4′ high stack 21'4″ long would equal a cord (ex, 1.5'x4'x21.33'=128 cu.ft.).
24″ Long Firewood
If your firewood is 24″ long (ie, 2′), a 4′ high stack 16′ long would equal a cord (ex, 2'x4'x16'=128 cu.ft.).
10. If I have drafts, animal concerns, chimney discoloration, deteriorated mortar joints, stains, smoke or water concerns, a smelly fireplace, spalling brick, or loose flashing, what should I do?
If you have any of the above conditions, we recommend an inspection before further use of your fireplace. Please contact us to schedule your appointment.
11. Was my chimney damaged by the August 23, 2011 earthquake?
Many homes in the Maryland-DC metro areas sustained damage to their chimneys during the August 23, 2011 earthquake, and much of that damage has still not been discovered. As confirmed in local news, professional chimney inspectors have found evidence of earthquake damage including cracked flues and separated mortar which pose a severe fire hazard or carbon monoxide hazard (by allowing toxic flue gas to escape into the home). With our Master Stone Mason owner, Fire-Safe Chimney Sweeps can not only diagnose, but also repair any damage to your chimney caused by earthquakes.
12. Why does my fireplace smell?
There are several sources of odor that could come from your chimney, including creosote, mold, or wildlife debris. The most common cause is a buildup of creosote—an oily byproduct of wood fires. Creosote is commonly found inside chimney flues when wood or coal burns incompletely, producing soot and tarry smoke. Build up of creosote over time can not only create an odor in your home (especially during the warmer, more humid months), but it is also flammable and can lead to a catastrophic chimney fire. If you're having problems with odors from your fireplace and chimney, call Fire-Safe Chimney Sweeps today. We will clean your chimney and flue, and inspect for water infiltration (which leads to mold), wildlife and/or debris, or creosote. No matter the problem, we'll return your chimney to a safe, odor-free condition, and help prevent future problems.
13. What are the Levels of chimney inspection?
The National Fire Protection Association (NFPA) identifies 3 levels three levels of inspections for chimneys, fireplaces, vents and solid fuel-burning appliances:
Level 1: Readily Accessible
Routine annual inspection of readily accessible portions of your chimney, fireplace/appliance, and connections.
Level 2: System Changes, Video Scanning, Real Estate Transactions
Level 2 inspections are required when changes are made to the chimney system, like repair of a flue or chimney relining, replacement or addition of an appliance of dissimilar type, input rating or efficiency. A Level 2 inspection is also required upon the sale or transfer of a property, or after an operating malfunction or external event that has likely damaged the chimney. Level 2 inspections include a visual inspection by video scanning that examines the internal surfaces and joints of all flue liners in the chimney. It does not require removal or destruction of permanently attached portions of the chimney or building structure.
Level 3: In-depth, Hazards Suspected
Rarely necessary, a Level 3 inspection is required when a hazard is detected during a Level 1 or Level 2 inspection that cannot be properly evaluated without removal of components of the chimney or building.
14. What is a Rumford fireplace?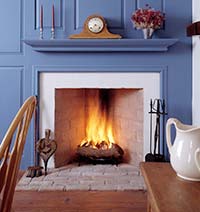 Rumford fireplaces are some of the most efficient fireplaces ever designed. They are tall and shallow to reflect more heat, and have streamlined throats which eliminate turbulence and carry away smoke with little loss of heated room air. Developed in 1796 by Count Rumford, Thomas Jefferson even used the design at Monticello.
With today's extensive restoration of old and historic houses and the renewed popularity of early American and classical architecture in new construction, Rumford fireplaces are enjoying a comeback. Rumford fireplaces require more time and materials to build, as well as the advanced expertise of a master mason certified in their construction. Fire-Safe Chimney Sweeps is one of the few companies in Maryland certified to build your Rumford fireplace.

14. Fun Trivia: Why are Chimney Sweeps considered good luck?
The tradition of Chimney Sweeps kissing the bride and shaking the groom's hand for good luck started about 200 years ago after a London chimney sweep saved the life of King George III. King George was riding horseback in a royal procession when a dog ran from the crowd and began nipping at the King's horse. The horse reared, and to the horror of the crowd, almost threw the King off of the horse! A lone and sooty figure of a man, a chimney sweep, stepped into the road and caught the horse's halter. The sweep had been the only person brave enough to stop the King's out of control horses and carriage. By Royal Decree, the King proclaimed that Chimney Sweeps should be regarded as Lucky! When people saw a chimney sweep, they thought they would be blessed with good luck, and as the years went by, it became a tradition to have a chimney sweep attend your wedding, therefore blessing your future marriage with good luck and happiness.
To this day, a Chimney Sweep is considered a sign of good luck, wealth, and happiness! Make your Wedding Day complete—invite the lucky Chimney Sweep!
Chim chiminey,
Chim chiminey,
Chim chim cher-ee!
A sweep is as lucky
As lucky can be