Fire-Safe Chimney Sweeps Serves Worcester County including Berlin, Ocean Pines, and Ocean City, Maryland
Ocean City, Maryland, officially the Town of Ocean City, is an Atlantic resort town in Worcester County, Maryland. Living by the sea has many great advantages: moderate temperatures, sandy beaches, wildlife, fishing and more. But as pleasant as a saltwater environment is to live in, it can wreak havoc on your chimney and masonry structures. Fire-Safe can inspect, sweep, and repair any chimney in Ocean City, Maryland. Our family home in Berlin allows convenient access to Ocean City and surrounding areas including Berlin, West Ocean City, Salisbury, Ocean Pines, and Ocean City, Maryland.
Waterproofing your chimney is essential in Ocean City
Salt suspended in airborne moisture is highly reactive. It quickly penetrates building materials and bonds at a molecular level. Saltwater has extremely corrosive effects on concrete and brick, including foundations, chimneys, walkways, and structural walls. In addition to dissolving the metal rebar used inside concrete, it can penetrate concrete and slowly break it down, leading to weakness and instability that is often hidden from plain view. If a structure is repeatedly exposed to saltwater flooding, bricks, mortar, and plaster can start to develop serious structural problems that could lead to a chimney collapse. Plus, the constant supply of moisture in ocean air make problems with mold more likely when you live near the beach.
With annual inspections and preventive maintenance, Fire-Safe Chimney Sweeps can help protect your chimney from the ocean environment. Let us treat your chimney with the proper coatings to prevent salt damage before it happens.
Our Family business goes back 4 generations
With houses dating to the late 1800s, Ocean City, Maryland's homes have surely seen their share of history—hurricanes, tidal floods, wind, earthquakes, salt, and erosion—all of which wreak havoc on masonry structures. Our Master Mason and third-generation owner, Gary Clift, and sons repair and sweep Worcester County chimneys. If you're in need of a chimney sweep for masonry repairs or preventive maintenance in Ocean City, there is no more experienced chimney firm in the area than Fire-Safe Chimney Sweeps.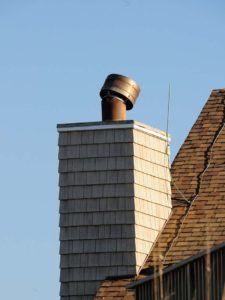 Living on or near the ocean provides great access to the beach, recreation, and water sports, but it also can cause additional wear and tear on your chimney due to higher local humidity and airborne ocean salts which chemically bond with masonry. Leaks, crumbling brickwork, staining and more can slowly and invisibly deteriorate an otherwise beautiful chimney. With an annual cleaning and inspection by Fire-Safe, we'll help to ensure that your chimney remains as care-free and structurally sound as possible.
Fire-Safe Chimney Sweeps removes chimney blockages caused by pests and wildlife
When you live by the sea, you're never far from nature. In such close proximity to water, you're used to the daily sights and sounds of waterfowl and nature. The chimneys in coastal homes make great homes for some of our feathered friends and other wildlife. If you find nesting materials dropping into your firebox, hanging from your chimney cap or crown, or on the ground near the base of your chimney, call Fire-Safe for an inspection before your next fire.
We look forward to the opportunity to service your fireplace and chimney. Call 410-360-8460 today or use our Request Service form.