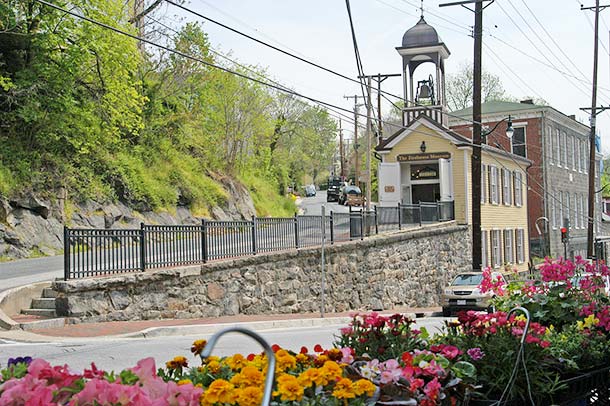 Fire-Safe Chimney Sweeps Cleans, Sweeps, Builds, Repairs, and Installs Ellicott City Chimneys and Fireplaces
As Howard County's premier, full-service chimney firm, Fire-Safe Chimney Sweeps is pleased to serve Ellicott City. From annual cleanings and inspections to major masonry repairs, we'll make sure that your fireplace is safe to use year after year. We are native Marylanders whose family has lived and operated in the area for over 75 years. When it comes to chimneys in your single family home, town home, condo or apartment, there is no more experienced chimney firm than Fire-Safe Chimney Sweeps. To request service, just give us a call at 410-465-3433 or use our Service Request form.
We service chimneys, wood burning stoves, and fireplaces all over Howard County and surrounding towns including Ellicott City, Columbia, Catonsville, Arbutus, Daniels, Woodstock, Woodmark, West Friendship, and Clarksville. If you live in the neighborhoods of Oella, Dorsey's Search, Centennial, Elioak, Turf Valley, Font Hill, Dunloggin, Waverly, Mount Hebron, Saint Johns Lane, Bethgate, Valley Mede, Bethany Manor, Normandy, Linwood, Long Gate, Taylor Village, Worthington, Brampton Hills, Montgomery Meadows, Jonestown, Ilchester or Wheatfield—you've probably seen our red truck in your neighborhood!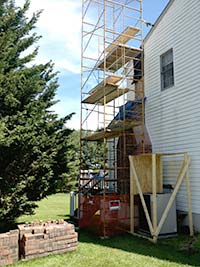 Custom build your stone or brick chimney? No problem.
Historic Ellicott City sits on Ordovician granite whose outcrops can be seen lining Main Street. When you hire Fire-Safe Chimney Sweeps to custom build your chimney, we'll help to select materials that fit historically with Ellicott City architecture and the local landscape. Our 4th generation family business (owned and operated by Master Mason, Gary Clift, and sons) has been inspecting, building, cleaning, and repairing chimneys since 1863. We can work independently or with your architect or builder to achieve the chimney style and color that you desire. There are many factors that affect the chimney construction process including available brick or stone, grout colors, permitting, construction time, site conditions, etc. Fire-Safe Chimney has successfully managed the chimney construction process for over 75 years. We are the most experienced chimney firm in Maryland.
If you need expert chimney care in Ellicott City or surrounding areas of Howard County, call Fire-Safe Chimney Sweeps today at 410-465-3433, or use our Online Contact form to request your appointment.