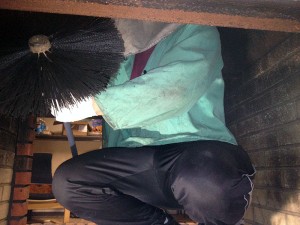 Certified Inspections for Maryland Chimneys, Fireplaces and Flues
Chimney, flue, and fireplace inspections are specialized tasks that are not covered by most standard home inspections. Any time a property is being bought or sold, it is in the best interest of both parties to have a professional chimney inspection completed by a certified chimney sweep. Fire-Safe Chimney Sweeps is a licensed, bonded, insured, and certified chimney inspector. We work for buyers, sellers, and realtors all around Maryland. We inspect, clean, and service:
Masonry Chimneys and Fireplaces
Prefab/Metal Chimneys and Fireplaces
Pellet Stoves
Wood Burning Stoves and Inserts
Dryer Vents
Oil and Gas Furnace Flues
I'm buying a new home… who should inspect the chimney or flue?
When buying a new home with any wood-burning device, we would advise that the home-buyer hire their own independent, specialized chimney inspector to inspect those devices. Why? Only certified chimney inspectors can correctly identify problems with a masonry chimney. The last thing you want is to move into your dream home only to find out that the fireplace and chimney are unsafe for use. We are still consistently finding major damage to masonry chimneys caused by the August 2011 earthquake, and some inspectors (hired by the realtor) seem to be overlooking major problems to help move properties. Don't get burned… hire Fire-Safe to inspect the fireplace and chimney of any prospective properties you are considering purchasing.